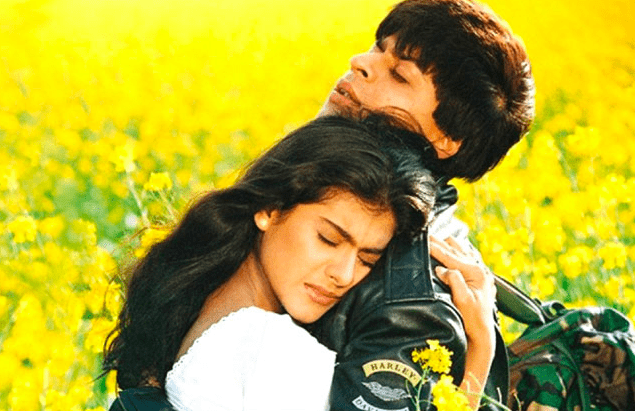 I am a 90's guy. Not only because I am born during 1990's era, but also because that phase itself was so special, so different when it came to the movies, songs and culture in India. I am sure many readers who have lived that era would reminisce those times, when life was simple, predictable and beautiful. My parents generation were fortunate enough to have lived that era. This is because of some of the most incredible romantic movies being made during that time. It was as if the breeze of love flowed freely in the 90's air…..
Usually, Bollywood movies have had predictable love stories, or even the girl or guy next door type love stories ( yes, even 90's era had quite similar movies, but still they seemed different than all the previous ones) which had some famous actor and he will try to win the heart of his love by performing all sorts of stunts and daredevil acts. I am sure Hollywood have had its own time of such movies too. But before 90's, people used to flock to see the movies just to see the hero, heroine or even the villain( like Gabbar Singh in Sholay). The 50's movies had a trio of actors like Dev Anand, Raj Kapoor and Dilip Kumar who dominated the bollywood industry with their exceptional acting skills. The late 60's had the evergreen romantic movies which showcased that era with Rajesh Khanna as the first superstar. Soon, people got tired of those chocolate hero typed movies, and syncing with the world events, which included the swinging 60's and 70's filled with protests against the establishment, the bollywood also welcomed its first Angry-Young Man, the legendary Amitabh Bacchhan, who broke all the typical hero image of just chasing his love. He revolted against the system, fought against injustice, and resonated with then trend of acting to change the system. The bollywood became a serious place for movies, and soon it was followed by a trend of parallel cinema during late 70's and 80's which highlighted the reality of the world behind the 35 mm film.
The 80's were tough times indeed. As I have always written about how the world got changed during the 1980's decade, when suddenly the forces of capitalism, free market, democracy and liberalism found themselves on the winning side, when not long before, they had thrown down the baton in front of socialism and communism. And by the end of 80's, it seemed that the world had suddenly become a new place. The old rules were broken down along with the Berlin Wall, nations collapsed and formed overnight, the markets which had been closed for decades opened suddenly, and new rules were laid out.
Just like the world, India saw its own set of vicissitudes. The 1980's were some of the toughest times, and unfortunately for India, the 1990's were even worser when it came to national politics, economics and unity of India. As I have written a article on this journey of India, I wont go deeper much. But the fact that India suffered from a series of weak governments during 90's, and its economy which had been a terrible permit Raj system had suddenly been opened and it later turned out to be the best decision taken during that decade. But this good aspect was soon over-shadowed by 1992 Babri masjid massacre, subsequent riots and Bombay blasts in 1993, ethnic genocide of Kashmiri Pandits and heinous terrorist acts in Kashmir valley by Pakistan and its ISI. That decade ended with the Kargil war in 1999, which India won gloriously and thus began the emergence of a new India in the 21st century.
But amidst all this chaos, the bollywood affair became intense. That era saw a sudden influx of romantic theme based movies and melodious songs. And people not only praised them, but also accepted them as a part of their lives. This might be because after all, people were tired of dirty politics and communal hatred outside, and so they cherished the love and happy ending stories with the intention of having such a good life someday. They preferred to make love, and not war by flocking into the theatres and music concerts, instead of participating in any protests or revolution, which the earlier generation did.
Stay tuned for the Part 2…
© Abhishek Karadkar and abhiknotes.com, 2021. Unauthorized use and/or duplication of this material without express and written permission from this site's author and/or owner is strictly prohibited. Excerpts and links may be used, provided that full and clear credit is given to Abhishek Karadkar and abhiknotes.com with appropriate and specific direction to the original content.
Copyright © 2021 AbhikNotes – Powered by WordPress.com